Oceanside Oregon in 2012
Music 1: The Maze (see attributions)

Music 2: Piano Etude (see attributions)
My opinion: I must confess. Oceanside is my favourite place in Oregon! If are a 'city person' you might not like the quiet relaxation of a beach side village with the surf on one side and thick conifer forests singing their song in the wind above you. If you do decide to visit, you should stay for the night; but, you must plan ahead. There are many rooms for rent, but a local manager is not to be found. You rent your accommodations from one of the many Internet services. I have dealt with Vascasas, with Air B&B and they always delivered!
Oceanside Inn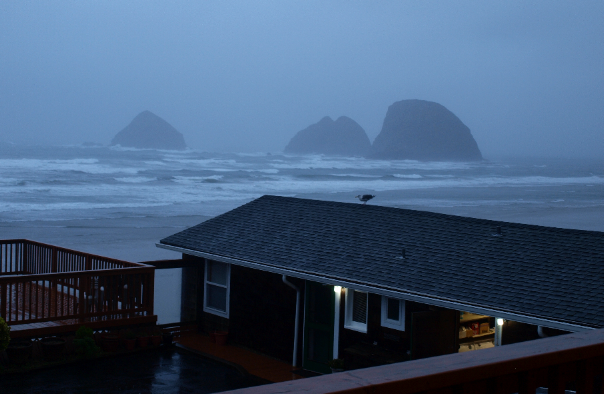 My First Visit to Oceanside: We arrived at Oceanside the day after Thanksgiving. It was 45F & raining as I stopped at Inns, guest houses & cafes asking about lodging for the night. I had given up hope & was driving out of town when my wife spotted the small "Vacancy" sign at Oceanside Inn. The Inn keeper showed us a lovely room with a great view. The Inn is a 1950's style motel, but in tip top condition having been recently remodelled. Happily, we settled into a suite with a perfect view.



Cafes and Eats in Oceanside
Next morning, we got up early & ate breakfast across the street at "Brewin In the Wind" Coffee Shop & Cafe. It was great, but has closed down leaving us with two excellent cafes. Rosanna's with its beach side views has been serving excellent lunch and dinner for over 30 years. The Blue Agate Cafe is 100 yards away serving a range of good food.

Both cafes are near the beach parking lot and beach access. In Oceanside, everything is close together!
Oceanside Village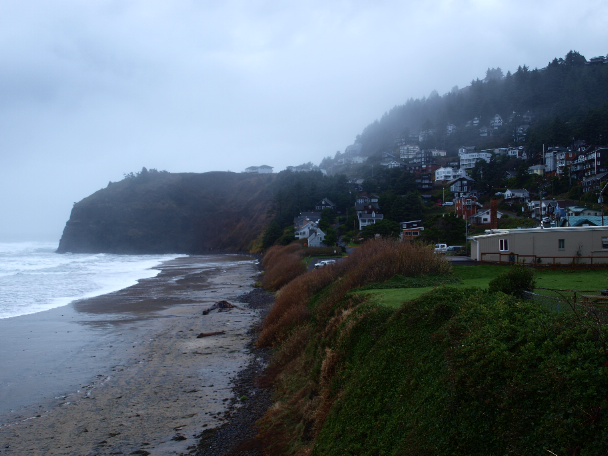 The village sweeps up the slope from the beachside cliff. For persons walking the beach, the cliff somehow sets the beach apart in a way that grants seclusion to walkers. The village reminds me of places foreign & romantic.
The Beach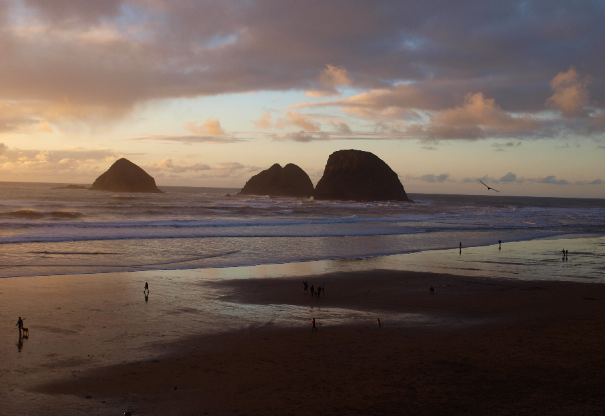 Three great rocks stand amid the ocean & just off shore. Of the beaches we visited, only Oceanside can challenge Cannon Beach for beauty. We walked for miles down this beach. Fresh air blowing in from the sea. While some might find the wee village "slow", for me the fresh coastal air filled me with vigour.





High Above Oceanside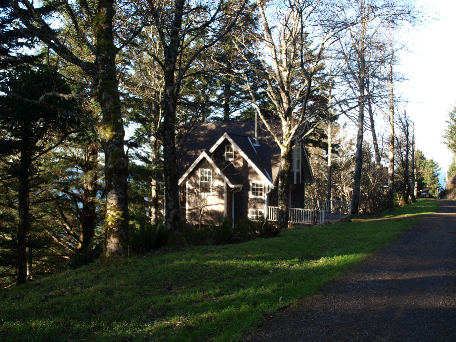 High on the mountain overlooking Oceanside, conifers sway as the barely audible surf crashes onto the shore below.





Hints for Visiting Oceanside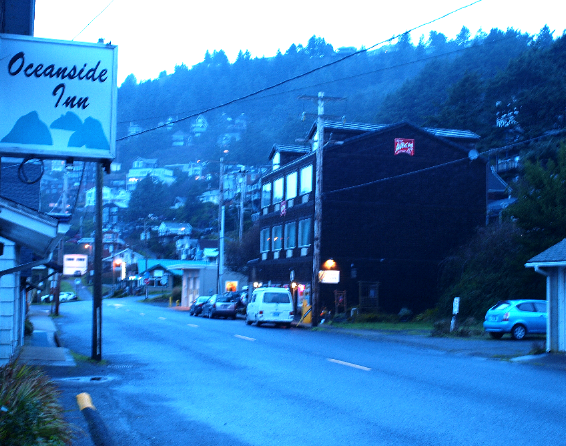 The village of Oceanside has many small "cabin" rentals (photos above show typical) & most are administered by nonresident managers. The place is lovely but small. Cell phones don't work here. These factors combine in a way that leaves "drive up" visitors "scratching" for a place to stay. While it is best to plan ahead, one place that does have a resident managers is "The Three Arch Inn". Below are links to two local hotels. Note: Oceanside is a pleasant 80 minute drive from Portland.
---
Music Attributions:
"The Maze" by Josh Woodward. Free download: http://joshwoodward.com/
Piano Etude from the Public Domain
---

Contact the author paul@dionysus.biz by e-mail.
Copyright 2013 by Paul F. Watson
All Rights Reserved
---
Dionysus.biz Home Page