Oceanside Oregon - 2012
Oceanside Inn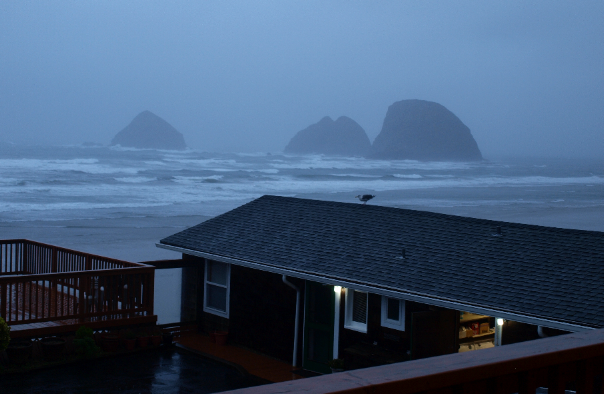 We arrived at Oceanside the day after Thanksgiving. It was 45F & raining as I stopped at Inns, guest houses & cafes asking about lodging for the night. I had given up hope & was driving out of town when my wife spotted the small "Vacancy" sign at Oceanside Inn. The Inn keeper showed us a lovely room with a great view. The Inn is a 1950's style motel, but in tip top condition. Happily, we settled into a suite with a perfect view.



Brewin in the Wind Coffee Shop
Next morning, we got up early & ate breakfast across the street at "Brewin In the Wind" Coffee Shop & Cafe. The place was clean & well decorated with a broad menu. The coffee & bakery products were good. Oceanside may not have many cafes, but the ones they do have are excellent!
Oceanside Village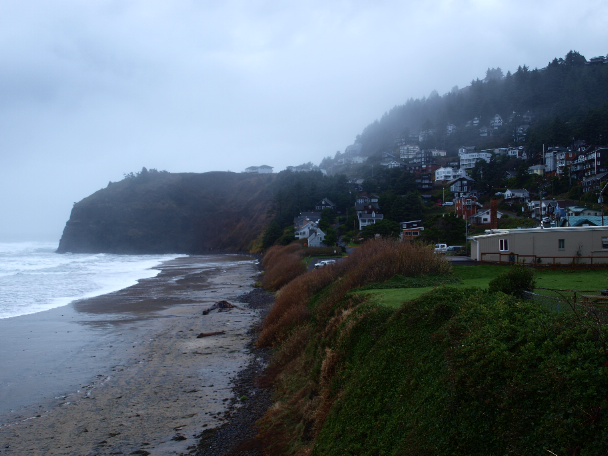 The village sweeps up the slope from the beachside cliff. For persons walking the beach, the cliff somehow sets the beach apart in a way that grants seclusion to walkers. The village reminds me of places foreign & romantic.
The Beach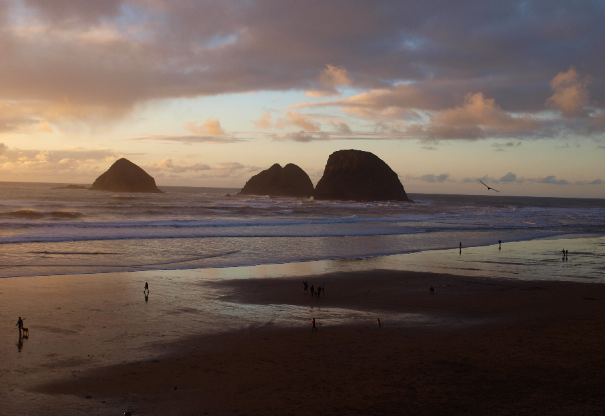 Three great rocks stand amid the ocean & just off shore. Of the beaches we visited, only Oceanside can challenge Cannon Beach for beauty. We walked for miles down this beach. Fresh air blowing in from the sea. While some might find the wee village "slow", for me the fresh coastal air filled me with vigor.





High Above Oceanside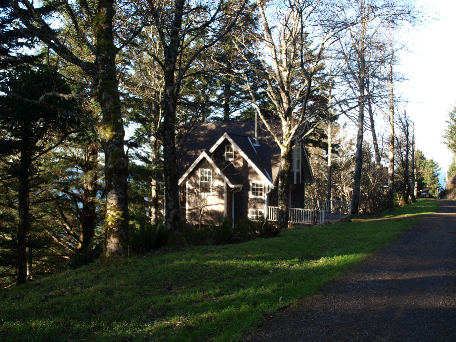 High on the mountain overlooking Oceanside, conifers sway as the barely audible surf crashs onto the shore below.





Hints for Visiting Oceanside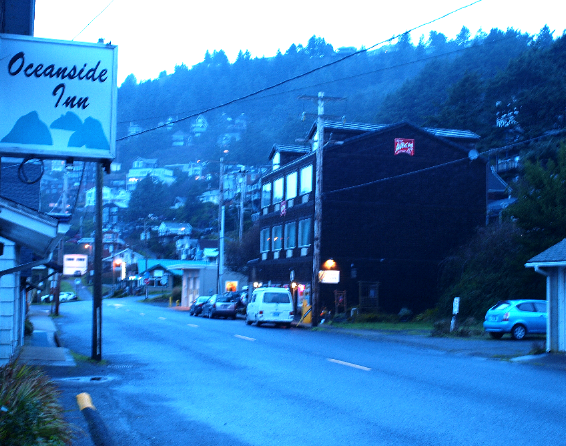 The village of Oceanside has many small "cabin" rentals (photos above show typical) & most are administered by nonresident managers. The place is lovely but small. Cell phones don't work here. These factors combine in a way that leaves "drive up" visitors "scratching" for a place to stay. While it is best to plan ahead, two places with resident managers are "Oceanside Inn" with direct beach access and "The Three Arch Inn" which is across the street (both shown above). Oceanside is a pleasant 80 minute drive from Portland.
---

Contact the author paul@dionysus.biz by e-mail.
Copyright 2013 by Paul F. Watson
All Rights Reserved
---
Dionysus.biz Home Page