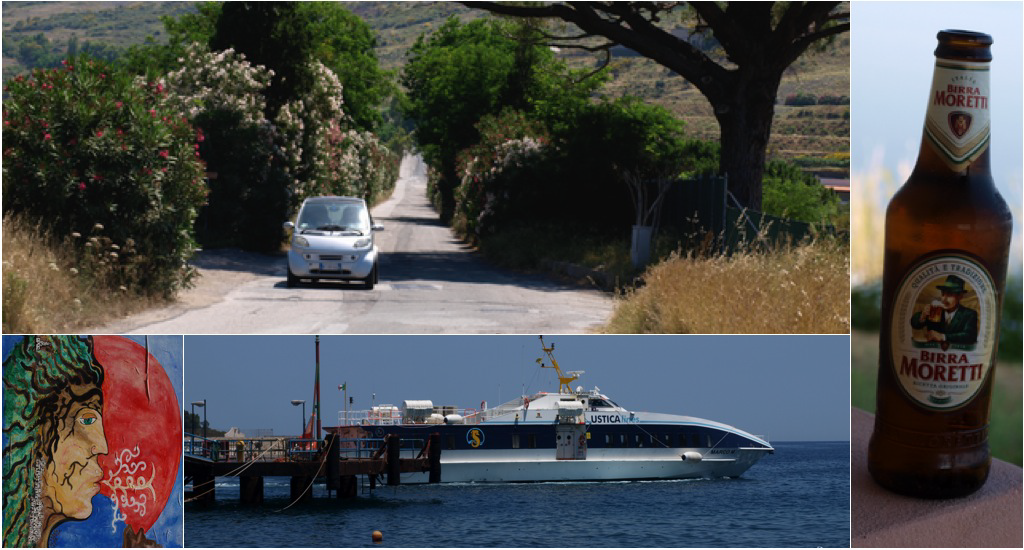 VULCANO ISLAND, ITALY
Introduction:
Vulcano is one of seven Eolie islands in the Tyrrhenian Sea, just 16 miles north of Sicily. It is easily reached from Milazzo (north east Sicily). The Mediterranean is home to blue skies, beautiful water and exquisite cuisine. While this description certainly fits Vulcano Island, there are many special reasons for visiting including exotic volcanic mud baths, lovely beaches for swimming, friendly people and some very fine vineyards.
My week on Vulcano was most relaxing. I met wonderful people who were kind, highly educated & often quite funny. I also met the proprietor of a vineyard, visited & sampled their wonderful wine. If peaceful little villages, outstanding food, wine and good people are your style, then Vulcano is right for you.
The Adventure:
I began my Vulcano Adventure after talking to an Italian friend who described the island as 'Heaven on Earth'. Naturally, I had to go, since I am not altogether sure I will get there later. I did a bit of planning, arranged for accommodations & through my friend, arranged to meet some wonderful local people.
Getting There: My flight from Texas to Italy was uneventful. The ride from Catania Airport to Milazzo was interesting, with bountiful ocean views. In Milazzo, our ferry was cancelled so I waited for the next with an Oxford Math professor and a couple from Holland. The company was good, the local beer fabulous & the time passed quickly. After a half hour voyage, I arrived at Vulcano port.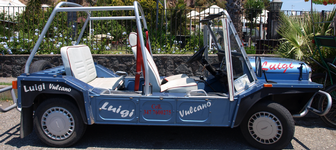 Minimok's are cute & good transportation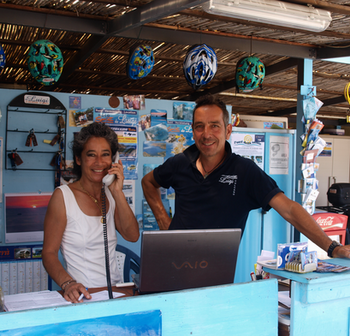 Renting a Car or Motorbike: I'll begin my story with Luigi's rental business, which is about 3 blocks from the ferry port where I landed. Luigi & his wife are a pleasant couple who rent motorcycles, quads & minimokes at reasonable prices. I rented a 50cc Quad (a 4 wheel motorcycle). With a top speed of 30 mph, it was more than enough for the island & can be handled by folks unfamiliar with motorcycles. But the Quads "buck" in response to uneven road conditions & I would recommend a traditional 2 wheel motorcycle for anyone who is an experienced rider. Luigi also does tours of the volcano & all other interesting & locations. He is well connected & as a result has access to the best spots.

When you visit, you will find Luigi & his staff speak English, German, French, Italian & Thai, so communication is never difficult and they are happy to answer your questions. Luigi's web site can be found here: Luigi's Rentals on Vulcano Island, Italy


The Port Area: After renting my quad and talking about the island with Luigi, I walked around the village and did some people watching. It's more fun in Italy than it is in my native Texas. I visited several shops before walking down a wonderful little street decorated by local artists. On one side of the street are hand painted pictures like the one in the banner of this web page. Next, I settled down for serious coffee drinking and pastries at Ramigi's next to the docks. That is Vulcano -- compact, interesting and delicious!
The village is small enough to walk, yet big enough to have a selection of restaurants, gift shops, a grocery store, tour/vacation vendors, a bank and two money machines. There are beaches directly accessible from the village. I visited very early in the tourist season & at that time there were a comfortable number of tourists & many, friendly locals. The immediate port area has numerous hotels & guest houses. One could spend their entire vacation in the village; but, it is a lovely island & it would be a shame not to get out around the island.

The local shops have a variety of tourist items, with a good range of quality. The range of products includes T-shirts, local volcanic rocks (obsidian, sulphur etc.), glasses, tumblers, towels, jewellery products (some quite nice) & a variety of things.
Wine Country on South Vulcano: My next adventure was to the south of the island. There, I toured a wonderful vineyard and I also visited the Gelso Lighthouse only about 1 kilometre from the vineyard. Near the lighthouse, I had a wonderful swim in clear waters of the sea with a local friend.
Wine making on Vulcano




The Vineyard Scene: The vineyards of Vulcano are mostly small, family run enterprises that require a personal invitation to visit. While I was on Vulcano, I was fortunate to meet the proprietor of Lantieri Vineyard, which is located on the south of the island. The vineyard overlooks the sea and surrounds a wonderfully restored historic house. I had a rare opportunity to visit & to sample both their famous Malvasia Delle Lipari wine and also several wines from the Sicilian region of Italy. I will always remember the kindness of the folks at the vineyard & will always remember them as friends.

For more information about this lovely, light desert wine from Vulcano: Lantieri Malvasia Delle Lipari

The Lantieri Vineyard is small & most of its product is exported. This great wine is available in Texas & other parts of the U.S. If you have trouble finding it, e-mail paul@dionysus.biz & I will try to help you. Importers should contact the vineyard directly through the link provided above. (Note: a friend of mine recently told me the wine is no longer available in the U.S.) A list of known importers to the United States follows:

Wine Making at Lantieri Vineyards: The "Appassimento" technique of wine making has been around for centuries and is described in classical literature. It is difficult to be sure, but we believe the process today at the Lantieri Vineyard is the same process used in ancient times. But, how does this modern Lantieri Malvasia Delle Lipari measure up? A friend of mine told me it was the one wine you would drink if you could only have one desert wine. Having visited and tried the wine, I agree!

A Comment about Wine: I grew up in Texas, ignorant of what a makes a great wine. Over time, I recovered from this moral depravity. I now understand that a great wine is one you can drink for years and without regret. For most wines, it means they should be without bitterness -- without sourness. They should not be overly sweet (desert wines are an exception). What is left, is a pleasant flavour (which depends on the type of wine), that fulfils all desires of taste and without the bite of alcohol. I hope my comments do credit to this historic beverage.




More about Vulcano: Here, I end my personal account of a visit; but, I will finish telling you a little about this lovely island. So read on my friend. If you are an arm chair explorer of the world, you can read more on the Internet about this interesting place. If you are a traveler, I think you will not regret journeying to this small island. And if it seems confining to you, a day trip to Lipary island might be just the thing!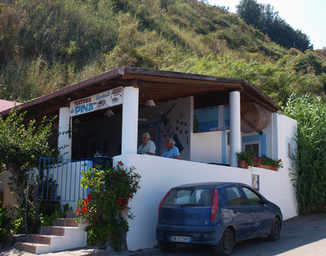 Eating out on Vulcano: The food on Vulcano is excellent & reasonably priced. While the port village has good restaurants, there are traditional Trattoria Restaurants scattered around the island. I visited one of these in the center of the island (and also restaurants in the village) & the food was outstanding & very reasonable in price. We sat in a private garden immediately behind the cafe in the company of other dinners & listened to distant strains of accordion music drifting in from a nearby house. A visit to Vulcano is not complete without dinner at one of these fine places. (note: the photo is of the Gelso Trattoria at the south of the island.)






Other things to do: I enjoyed my time very much; but, in one week I did not exhaust the island's available activities. A few things I missed out on are listed below:
Volcanic Mud Baths (located in the immediate port area & very popular!
Volcano Exploring Trips (Many guides are available, but Luigi is good. (see link above)
Sunset views from Vulcano to nearby islands are heavenly. (discuss with locals for best place)
Water tour boats cruise around the island with tourists (see local tourist offices for details)
The Gelso Lighthouse is a good half day picnic trip on a motorcycle. When you reach Gelso, walk down the beach.
Take a half hour ferry up to Liparri Island & visit the wonderful pottery museum. See a 5000 year old stove!
Many other opportunities abound on Vulcano. Talk to locals.
Practical Things
What is Vulcano Like & Where is it? Vulcano is a diminutive Mediterranean island 16 miles north of Sicily. It is easily reached by ferry from Milazzo Sicily which offers two quality ferry services. Vulcano Island is about 5 miles long. The ferry port is located at a village in the south of the island which offers numerous hotels, cafes and rental for cars or motorcycles. Roads on Vulcano are paved & signs clearly mark the way. It would be difficult to get lost on this island and the local people are friendly.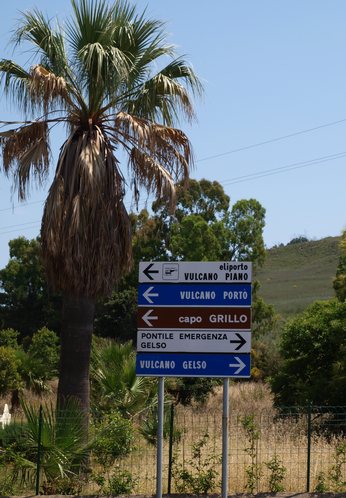 Driving on Vulcano: Vulcano is a simple island & roads are well marked. Like America & most of Europe, Italians drive on the right side of the road. The road quality on Vulcano is good, but narrow and winding. A 50cc motorcycle is adequate to see the entire island; but, if you rent, be sure & stay on your side as you negotiate winding turns -- else you may be surprised by a car coming the opposite way!
Getting There: I flew from Texas to Amsterdam to Rome to Catania Sicily. (in arranging your flights, be aware that Rome, has two airports). Most likely, your passport & visa will be processed at Amsterdam but your luggage will be inspected at Catania. Allow extra time in Amsterdam & ask someone in the terminal where the immigration offices are. Go there & get your passport stamped. The following services brought me to Vulcano Island:
1. Arrange air travel through Amsterdam to Catania Sicily on any major air carrier
2. Alibrando Bus Service from Catania Airport to Milazzo Ferry Terminal: 2 hours (Schedule reservation before arrival)
3. Ustica Ferry Service from Milazzo Ferry Terminal to Vulcano Port (30 minutes. Reservations may be needed in high season)
4. Rent a motorcycle or quad from Luigi Rental Service (3 blocks from the port). There is another rental service. (I used Luigi & he was reasonable)
Visas & Legal Things: Because Italy is part of the European Union, most Europeans can visit without a visa. Americans will fly to Amsterdam where they will receive a visa for up to 60 days (check on the web for current rules). On arriving at Catania Airport (alternatively Palermo Airport) baggage will be checked by customs. After you pick up your baggage, you are free!
---

Contact the author paul@dionysus.biz by e-mail.
&copy 2012 All Rights Reserved
Paul F. Watson
---
Dionysus.biz Home Page