---

Music:
Military History & Fellow Travellers:
We do not accept advertising dollars. We just give you the straight scoop on good books!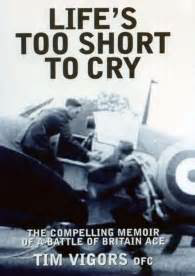 Life's Too Short To Cry by Tim Vigors- the Compelling Autobiography of Battle of Britain Ace Tim Vigors - 5 Star Personal WWII Pilot' Account
Irishman Tim Vigors joined the RAF and fought through the Battle of Britain before transferring to the Asian Theatre. His narrative is a moving account of growing up in Ireland, training with the RAF and finally his experiences as a fighter pilot. His story is full of humour and honesty -- often confessing feelings many of us hide and failings many of us deny. Tim recounts late night revelry with his comrades - comrades who were all dead within 6 months of war. There are many accounts of wartime pilots, but none more honest or more human than Tim Vigors. I can honestly say I regret his passing in 2003, as I would very much like to correspond with him.
---
Thunder Below! by Commander Eugene B. Fluckey. The story of U.S.S. Submarine Barb during tenure under Lt. Commander Fluckey- 4.5 Star Autobiography (Amazon, Barnes & Nobel etc.)

Fluckey became commander operating against the Japanese during Mid WWII. He served with great distinction and continued through to the end of the war -- a time when there were virtually no enemy ships to sink. While Fluckey discusses little of his personal life and feelings, his approach to command, to capturing and taming of Enemy Informants speaks to his intelligence and creativity. I have read several WWII submarine books, and this ranks as very good. Others worth mention include Luck of the Draw by Capt. Ruiz, and a final selection "Silent Running" by James Calvert. Interested individuals may also find declassified U.S. Submarine War Patrol Reports of interest. Find them with a Web Search.
---
Supreme Commander- MacArthur's Triumph in Japan by Seymour Morris Jr.
4 Star Biography
Morris presents a good overview of the military reconstruction of Japan, the major issues and challenges with enough of the human kind of stories to keep it interesting.
Many see MacArthur as the ultimate of self centered generals; and yet, the author paints a far more complex and compelling picture of a man who was deeply concerned with human plight of a defeated Japan. As always, MacArthur was concerned about image - his own image; but, his careful projections were often for the overall good.
When landing in heavily armed Japan just days after the surrender, MacArthur and his top generals walked down the aircraft ladder unarmed, with smiles on their faces. The 2000 armed Japanese solders in place to protect him expected a dragon, but were totally disarmed by the psychology of this man sent to lead the country through reconstruction in the most human way possible.
This book makes a good read for those interested in this kind of thing. I highly recommend it.
---
Going Solo by Ronald Dahl- 5 Star Biography

Gripping Life's Story by the author of Charley and the Chocolate Factory

As a young man, Author Ronald Dahl spent 2 years in East Africa representing Shell Oil Company, just before WWII. With the start of WWII, he joined the Royal Air Force (United Kingdom Air Force) and trained to be a pilot. This book covers his life from the voyage to Africa, until he completed his military service as a pilot and returned to England. It is brilliantly written and most interesting. A brief but wonderful read for boys of any age.
---
Dive Bomber: Learning to Fly the Navy's Fighting Planes by Robert A. Winston- 4 Star Biography

Light hearted history of Navy Flight Training just before WWII

Reading history books, we hear a lot about what great pilots the Japanese had in WWII; but, we hear little about the quality or training of American Navy Flyers. This little book tells the experiences of George Winston as he went through U.S. Navy flight training. Light, enjoyable reading and yet gives great insight into the kind of training, the duration of training and how Mr. Winston felt about flying float planes, vs. dive bombers vs. fighters. Fun reading and very informative!
---

Contact the author paul-watson@sbcglobal.net by e-mail.
&copy 2012 updated March 2020 All Rights Reserved
Paul F. Watson
---
Dionysus.biz Home Page