Visit to India - December 2012
by Sambi Reddy Mattu
I've lived in the United States many years now, but wanted to take some of my relatives back to our place of origin. After a long flight, we arrived safely!
India is a place of rich contrasts. Sights and people are varied. During our time there, we visited the crowded markets, traveled by unusual means. In my travels, I find the ordinary places and people the most honest representation of a place, so I begin with those; but, we also saw many famous places.
The Ordinary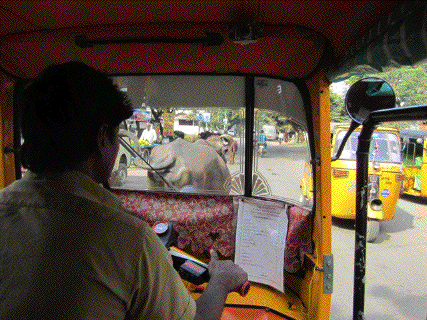 India offers visitors some unusual means of travel. This converted motor cycle taxi is still popular in places like India and Thailand.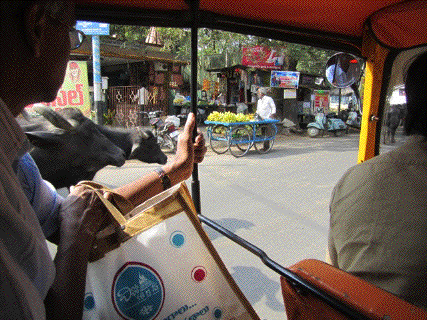 Many rural places have these street side markets.
Traditional ways of celebrating are very different in India.
Overseas, it is always interesting to see references to "things Western". In the photo above, one is left wondering if the spelling of Facebook is accidental or intentional.
The Extraordinary
Many people are unaware of the religious diversity present in Modern India. The next two photos are of famous places. Both of these show a small part of the diversity that is India.
Buddha statue - This recent attempt by the Dalai Lama to rejuvenate a 2000+ year-old site of Buddhist monuments at Amaravathi on the Southern banks of the Kirshna river in the state of Andhra Pradesh, India, is impressive in size and the details at the base of the statue. However, the project seems to lack sufficient funding to complete it, or at least the progress is very slow and the grounds are not well-kept.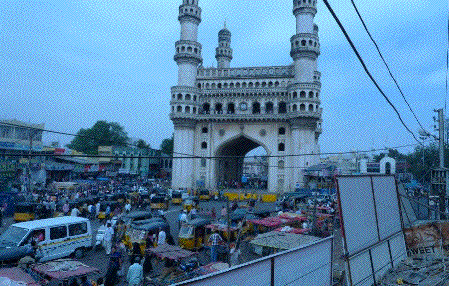 The Chaar Minar is a 400+ year-old islamic monument in the Old Hyderabad City in South-Central India. It means four towers in Urdu. It was built by Qutb Shah, the 5th ruler of the Golconda Sultanate. His descendent, Nizam of Hyderabad was once considered the richest man in the world. Many famous diamonds including the Hope diamond and the Koh-I-noor were mined at Golconda near Hyderabad.
I hope you enjoyed this "mini-trip" of India.

Contact Dionysus.com Web Master Below.
paul@dionysus.biz by e-mail.
Copyright 2013 by Sambi Reddy Mettu
All Rights Reserved

Displayed by invitation of the author
---
Dionysus.biz Home Page