---

Music

Fiction for Boys
We do not accept advertising dollars. We just give you the straight scoop on good books!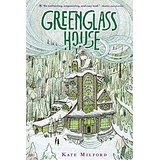 Greenglass House by Kate Milford- 4 Star Fiction
Fast moving mystery in an "old house" during a snow covered Christmas.
Milo is looking forward to a quiet Christmas with his family in their ramshakle house hotel, when six strange guests arrive. Arguments soon erupt between the guests as an odd assortment of things goes missing from their rooms. Milo is soon involved with Mendy in trying to find the missing objects and unravelling why this odd assortment of guests arrived.
Fast moving, constantly entertaining and enjoyable. I highly recommend Greenglass House for boys and girls age 9 to 12.
---
The Emperor of Any Place by Tim Wynne-Jones- 5 Star Fiction

Brilliant, but perhaps beyond the maturity of the intended reader.

Teenage Evan morns the death of his father as X-Marine grandfather Griff shows up to "help with the estate." The boy starts reading a very limited edition book that his father put down shortly before his death - a book that somehow involves Griff, a Japanese solder & a desert island. The boy soon begins to suspect Grandfather Griff has his own agenda AND that he is determined to get the book. Evan & his Grandfather are locked in an age/dominance struggle as Evan tries to unravel his grandfather's motives.

Emperor of Any Place alternates between the present day California and & WWII on an almost deserted island with flash-backs that gradually illuminate the distant past. This book is a tour de force by any standard. It is a brilliant expose on generational struggles, on the post vs. pre Viet Nam view of war and on the fundamental precepts of civilized man. Read it and explore human psychology, history and the generational struggle. This book is a masterpiece!
---
Going Solo by Ronald Dahl- 5 Star Biography

Gripping Life's Story by the author of Charley and the Chocolate Factory

As a young man, Author Ronald Dahl spent 2 years in East Africa representing Shell Oil Company, just before WWII. With the start of WWII, he joined the Royal Air Force (United Kingdom Air Force) and trained to be a pilot. This book covers his life from the voyage to Africa, until he completed his military service as a pilot and returned to England. It is brilliently written and most interesting. A brief but wonderful read for boys of any age.
---
Dive Bomber: Learning to Fly the Navy's Fighting Planes by Robert A. Winston- 4 Star Biography

Light hearted history of Navy Flight Training just before WWII

Reading history books, we hear a lot about what great pilots the Japanese had in WWII; but, we hear little about the quality or training of American Navy Flyers. This little book tells the experiences of George Winston as he went through U.S. Navy flight training. Light, enjoyable reading and yet gives great insight into the kind of training, the duration of training and how Mr. Winston felt about flying float planes, vs. dive bombers vs. fighters. Fun reading and very informative!
---
Whiz Pop Chocolate Shop by Kate Saunders, 5 Star Fiction For boys and girls ages 9 to 90. Barnes & Nobel, Amazon, other on line & brick and mortar.
The Whiz Pop Chocolate Shop is equal parts whimsy & examination of deep moral issues. It's a gas to read despite exploration of consequences & loneliness. Too serious you ask? Above all, this is a book of hope & redemption.
The story begins as the Spoffard family inherits the long dead uncle's Magic Chocolate shop. The building stood unoccupied for 70 years, & yet, it is in such good condition that the Spoffards move in.
Twins Oz & Lily soon discover an immortal talking cat -- victim of Evil Isador's experiements. The story unfolds with nonstop action as the twins become involved with the British Secret Service, the Magical Cat & the Immortal/Evil Uncle Isadore.
For nonstop fun, read this whimsical yet serious novel. It is the best I have read in 10 years.
---
Holes by Louis Sachar & Vladimir Radunsky- 4 out of 5 Stars! Review by Athena
Fiction for boys, age 10 to 13



Holes is a book about, well, HOLES. A young boy named Stanley is always at the wrong place in the wrong time (which has an interesting backstory), and it leads him to getting stuck in a camp for bad boys where they dig holes everyday to 'build character'. They are told that if they find any thing interesting to report it to the warden, and if she likes what was found then the person who found the object gets the rest of the day free.

This gets Stanley suspicious, and leaves him wondering-- are they really digging to 'build character', or is it for some other reason? Knowing how reviews work, yes this means there is some other reason but you have to *actually read* the book to understand a plotline as complex as this. There are *plot holes* (I'm so funny) in this book that are explained as you read on, and the only way to understand it all is to actually *read* the book. 4 out of 5 stars

Note- Slow start.
---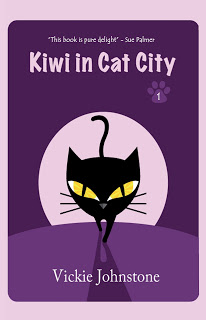 Kiwi in Cat City by Vickie Johnstone- 4.5 Star Rating (9 to 75 years old) for boys & girls who like cats
Amy & James follow their cat Kiwi into the night, only to be invited to go with her to Cat City. Upon arrival, they find themselves transformed into kittens & along for the ride as Kiwi helps Inspector Furrball unravel the Cat Crime of the decade.

Kiwi in Cat City is fast paced & fun. Pace & utter disregard for reality result in a novel with the spontaneity of a good comic. Ridiculous but fun. Park your brain & go for the ride. You will love it!
---
Review by Athena: 5 Star Rating I recommend the book for any age (9 to ...... 108 years). This book has everything including good fun, action & humor.
The book is about 9 year old Amy & her younger brother who follow their cat Kiwi into the night to see what she does when they're asleep. The two kids get the shock of their lives when they end up in Cat City, where they are transformed into kittens. From there, Amy & James follow their cat around (instead of their cat following them) in a fast paced mystery & cat-crime adventure.
The author seems to have an unlimited imagination which makes the story enjoyable for all ages. I recommend that you read this book. I believe you will have a bucket full of enjoyment!
---

Review by Athena
Story Thieves by James Riley: 5 Star Fiction Boy's or Girl's fiction, magical violence of the funny kind, Age 10 & up (Amazon, Barnes & Nobel, e-book etc.)

"Story Thieves" is a book about a boy who goes into the library and sees a girl from his school crawl out of the pages of a book. After some tough negotiating, the boy convinces his school mate to take him along into his favorite Magic Fantasy Series. The boy can't resist "tinkering" with the story line and soon, big problems are flowing back into "our" world. They become so involved that the boy ends up substituting for a main character and things only get worse.

This is a serious MUST READ book.


---
Scat by Carl Hiaasen 5 Star (8 to 14 years old) a boy's book that many girls will enjoy.
I had never read any of Carl's books and was a bit uncertain; but "Scat" turned out to be a great read! A school field trip to the swamps goes wrong, and all the students are loaded onto a bus driven safely home amid clouds of smoke. But after their return, they find their feared biology teacher is strangely missing!
Young Nick and a girl friend from school begin to investigate the teacher's disappearance and sudden withdrawal from teaching. Their investigation brings them into contact with the school juvinile delinquent and a strange man driving the ex-teacher's car.
Part mystery, part adventure story, this book examines human motives and misunderstandings. Many of the people in this story are not as they seem and many have hidden abilities and willingness to help. I can't really tell more without giving away the secrets of a story worth reading!
I highly recommend Scat!
---
Chomp by Carl Hiaasen 5 Star (8 to 14 years old) a boy's book that many girls also will enjoy.
After reading SCAT, Athena & I just had to try another of Carl Hiaasen's -- we weren't wrong and this one's a hoot!
A world famous, show time Wild Life Survivalist and his agent contact wild animal wrangler Mickey Cray (and his son Wahoo) for a set-up filming with Mickey's pet alligator. Before long, Mickey, Wahoo and the "girl next door" are deep in the Florida everglades with the whackey Survivalist and his film crew. Just about everything that can go wrong does. The story is non-stop fun, mostly at the expense of the Survivalist. This is a difficult to describe story, but one well worth the reading.
---
Kiwi in the Realm of Ra by Vickie Johnstone- 4.5 Star Rating (9 to 75 years old) for boys & girls who like cats
Kiwi in the Realm of Ra is yet another of Vickie Johnstone's wonderful adventures of Kiwi the cat and her human masters (Amy and James). In this episode, Kiwi and her human masters (James and Amy) are transported back in time and visit ancient Egypt. Together with animal friends from earlier books, they end up on the trail of Dev the criminal mastermind of the cat world. Ancient Pyramids, cat bandits and Ancient gods who are often not in sympathy with the cats are all intertwined in a book of mindless fun so typical of this author.
I have read and enjoyed all the Kiwi books. They are all good, but this one is outstanding!
---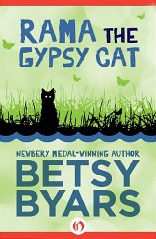 Rama the Gypsy Cat by Betsy C. Byars- Four Star Rating (7 to 11 years old) for boys & girls who like cats) Open Road Integrated Media
Rama the Gypsy Cat is a story about a perfectly normal tom cat. That is, a cat without the powers of speech or complex reasoning. He begins his life in a Gypsy wagon before being separated as a young tom. He goes through a series of adventures and challenges. With each change, Rama finds himself in a new circumstance with a new master.
Like most cats, he feels a loyalty to his human, even as the chain of circumstance leads him from a Gypsy woman, to a farm family and finally to a life with a traveling merchant.
I read this story to my 9 year old daughter. It is a brief story, but both of us enjoyed it. If you are looking for a 'cat book' Rama the Gypsy Cat is a good choice.
Rama the Gypsy Cat is apparently out of print ; but, is available as an e-book for Kendal, Nook and likely others. It can also be found at used book sellers or Amazon New & Used for very reasonable prices.
---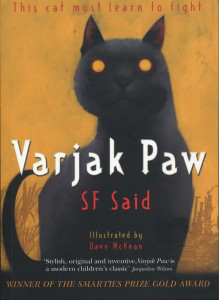 Varjak Paw by S. F. Said: 5 Star (animal stories)
B&G, v, F, Age 6-60, Amazon, Barnes&Nobel, e-book

Young Varjak's family is in danger when the Contesa dies & a strange man with his black cats take over the house. Moments before being murdered, Varjak's grandfather sends the young kitten Varjak to seek help in the outside world & to save his family. Will he succeed?



This is a gripping story for boys and girls alike. I can not give a higher recommendation.

This is a fabulous "comming of age" story & also a story of loyalty to family and friends. Sequel The Outlaw Varjak Paw is equally gripping. We only regret there are no more.
---
Dormia by Halpern and Kujawinski: 5 Star (Fantasy)
B, v, F, Age 9-14, Amazon, Barnes&Nobel, e-book

Young Alfonso Perplexon has the ability to do amazing things - but only when he is sleeping. He also discovers an amazing plant that must be returned to a lost city, deep in the Ural Mountains. His long lost uncle shows up, and soon Alfonso and the uncle are on a mission to save this lost civilization by returning the life giving tree. This story is the tale of his adventures in performing the mission & saving a lost civilization.

Dormia is a rich, well told story of loyalty, devotion and commitment. Sequel Lands End is equally good.
---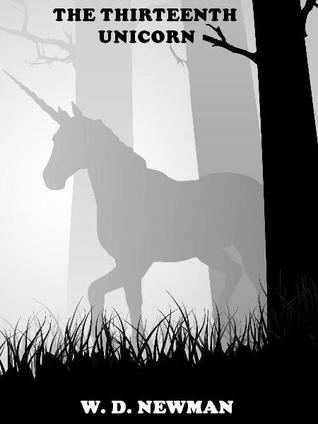 The Thirteenth Unicorn by W. D. Newman: 3 Star (Fantasy)
B&G,v, F, Age 5-8, Barnes&Nobel, Amazon, Smash Books in e-book only

9 year old Ben Alderman & his 13 year old sister Casey discover a "pathway" between their grandmother's farm and a magical world with Dwarfs, Elfs and all that. This is very much a story of good vs. evil like so many. The story offers a sequence of events terminating in a great surprise ending.

Story quality of this book is not bad & the writing is acceptable; but the plot seems a bit unoriginal. Significant character development is not a major theme. That said, my 6+ year old daughter enjoyed it very much & she really is the intended audience.
---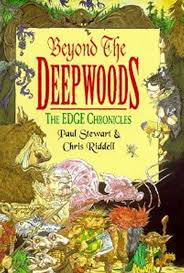 Beyond the Deep Woods by Stewart & Riddle, 4 Star (Fantasy)
B, v, Age 8-14, Barnes&Nobel, Amazon etc.

Chris Riddle creates a wonderful world that forms the "canvas" for this beautifully created series illustrated by Paul Stewart. When Riddle tires of one main character, he starts a new book with a different protagonist. All are interesting. The books are fast action & mostly fun. They are ideal boy's entertainment.

This is a very well written fast action story. B&W illustrations are provided throughout the book. Character growth is evident & characters often admit mistakes openly. Book 1 (Beyond the Deep Woods) creates the "canvas" for a world of fast adventure. Books 2 through 10+ are all excellent.
---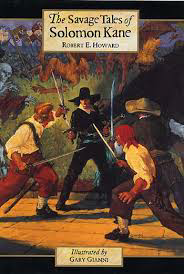 The Savage Tales of Solomon Kane by Robert E. Howard, 4 Star (Horror)
B, V, Age 18 & up, Barnes&Nobel, Amazon etc.

Each chapter presents an event from the wierd & mythical life of adventurer Solomon Kane. The protagonist Solomon Kane is a religious zealot from the age of sword & pistol. A variety of stories ranging from action to horror are presented. All are excellent; however, character development is not an objective of the author. He is interested in depicting graphic action & horror. He does both very well.

Howard was an accomplished author in the 1920s and mid 1930s who died young. He was largely the creator of several "household" themes including the "Atlantis Saga". He was a brilliant writer, but not particularly interested in character development or complex relationships. This book can be quite graphic concerning violent events. I have therefore recommended it only for an older audience.
---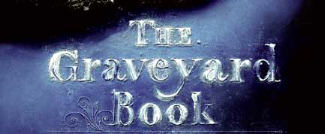 The Graveyard Book by Neil Gaiman 5 Star (Fiction)
I almost turned away from this book because of the first chapter; but, I'm really glad I read it.

On the heals of a brutal murder, a toddler climbs out of his crib, wanders out the door and into a nearby graveyard. As graveyard ghosts discuss keeping and protecting the boy, Silas the grounds keeper escorts the Murderer out of the graveyard.

What kind of life can a boy have living in a graveyard? Who is the mysterious grounds keeper Silas who acts as the boy's gardian? Who is the murderer and why does he maintain a persistent interest in the boy? Read this fascinating story and find out.
---
Dionysus.biz Home Page