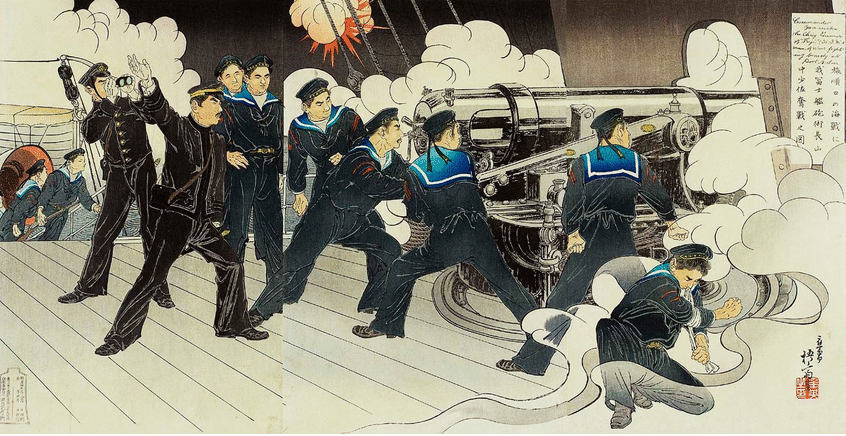 Public Domain: Woodblock print by Toshihide Migita
Japanese gunners at 6" Secondary Gun
The First Modern Sea Battle
Accuracy of Japanese & Russian Battleships in 1904 Rev B (May 2020)
Summary Report by Paul Watson
Music (piano etude - see Music Credits below)
ARTICLE UNDER REVIEW: Through generous consideration of others, I have received data concerning magazine expenditures of Japanese Battleships at Tsushima. This should enable more accurate determination of the number of large calibre hits required to sink a Russian Pre dreadnought at Tsushima (likely 35 to 40 hits rather than roughly 60 hits indicated below). Some adjustment to estimated percent hits by both sides is additionally possible. This will require some thought, as Russian ships during the August 10, 1904 sea battle received similar numbers of hits but remained reasonably functional. Updates should be accomplished by TBD date.
Summary: The Russo Japanese war was the debut of modern sea warfare in the age of steam and high powered guns. The following article presents a brief overview of the war for context followed by summary level conclusions from newly conducted research that establishes gunnery percent hits at 6500 yards and 8800 yard ranges during major sea battles. Summary conclusions on the number of 12" hits required to sink a "then modern" 13500 ton battleship are also provided.
Introduction: The early 20th century was a period of rapid development of naval gunnery. In 1898, the U.S. Navy achieved 2% hits against the Spanish fleet in Cuba at 2000 yards range. Only six years later, the Japanese Navy sank seven Russian battleships with a devastating 20% hits delivered at 6500 yards range.The Russo Japanese war is thus a major historical milestone in the development of naval gunnery. This brief report summaries the war, the equipment and the gunfire accuracy (i.e. percent hits). A companion article provides the technical analysis that supports these conclusions.
Request the Full Technical Report (free): Interested parties are encouraged to send me an e-mail requesting the full, 12 page technical report justifying the conclusions provided herein. The report includes all the math, referenced sources and explanations of how the analysis was performed. Send your request to paul-watson@sbcglobal.net and request "Analysis of Russo-Japanese War Naval Battle Gun Hit Percentage" by Paul F. Watson. If you produce a product, I do ask that you identify the website: www.dionysus.biz, the report name and author in an appropriate credits section.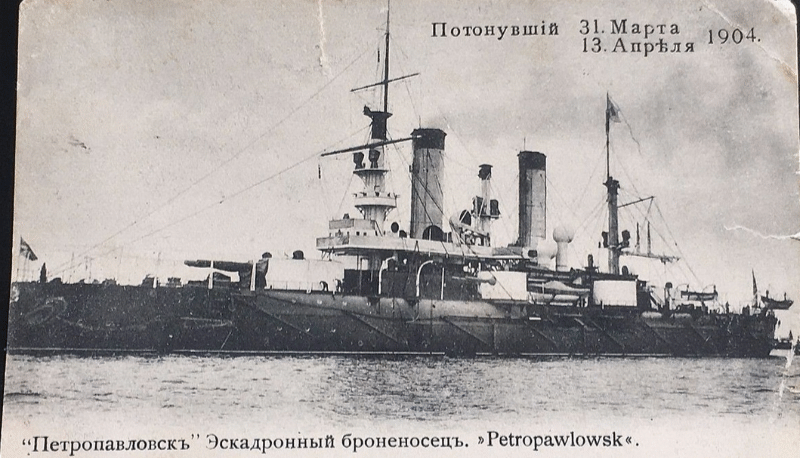 Public Domain: Old Post Card
Typical Pre-Dreadnought Battleship
The Ships & Guns: The 1904 Russo Japanese War was fought with armoured, steam powered pre-dreadnought battleships. A typical battleship of 1904 was equipped with two twin 12 inch gunned turrets mounted fore and aft. A secondary armament of 12 broadside guns (6 each side) was also typical. 3" anti torpedo-boat guns were standard equipment. The 12 inch guns fired 850 pound projectiles at 2500 feet a second with battle ranges in 1904 varying from 3000 to 10000 yards. A typical battleship of the period is shown above (note: The battleship shown above had two small 6" gun turrets (each side) mounted on the weather deck in lieu of "broadside" mounted guns. This was a common feature among French Influence battleships of the period).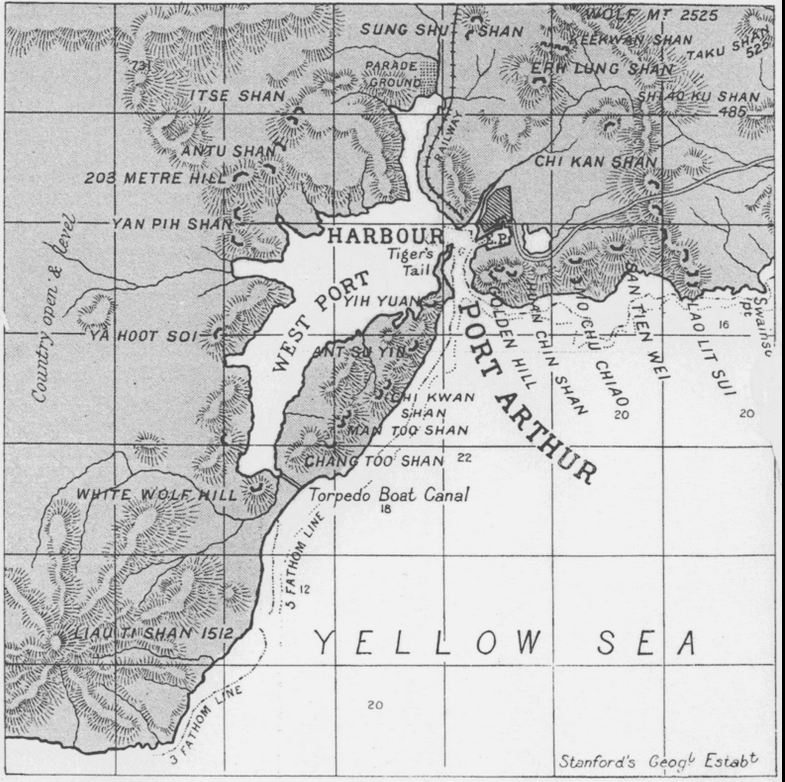 Public Domain: Source TBD- obtained from Wikipedia
Map of Sea Fortress at Port Arthur Manchuria
The Sea Coast Fortress of Port Arthur Manchuria: Referring to the map above, small semi-circles illustrate positions of mountain fortresses, 9" and 11" seacoast mortars and five 10" high power guns. The West Port and Harbour area are protected anchorages. The fortifications at Port Arthur were robust. It was ringed with concrete and earth forts having overlapping fields of fire, cannon and machine guns. On the sea side, Port Arthur had 5 10" parapet mounted guns on Golden Hill. Also facing the sea were approximately 20 seacoast mortars capable ranging to about 10,000 yards with high angle fire. The sea outside Port Arthur was mined with a narrow passage for ships to pass. The Port Arthur fortress was probably the most powerful and best protected fortress of the 20th century.
The Fleets at Onset of the Russo Japanese War: Russia was expanding its colonial empire into Asia and had established a very powerful sea fortress at Port Arthur Manchuria (now Darien China). A fleet of 7 modern battleships operated out of Port Arthur and an armoured cruiser division operated out of Vladivostok Russia. Russia also had battleship fleets in the Black and Baltic seas. A summary of Russian battleships at Port Arthur when the war started at follows:
| | | |
| --- | --- | --- |
| Battleship | Country Built | Armament |
| Tsesarevich | France | 4 x 12" |
| Retvisan | United States | 4 x 12" |
| Pobieda | Russia | 4 x 10" |
| Peresviet | Russia | 4 x 10" |
| Poltava | Russia | 4 x 12" |
| Sevastopol | Russia | 4 x 12" |
| Petropavlovsk [1] | Russia | 4 x 12" |
Russian 1st Pacific Squadron- Battleships at outset of War
Table 1

Note [1] Petropavlovsk struck a mine and exploded on 13 April 1904. The irreplaceable Admiral Makarov and crew were lost. Petropavlovsk was destroyed prior to the main sea battles.

Japan had awakened from self imposed world isolation about 1870, only to discover Western Powers colonial aspirations in Asia. Japan was understandably desirous to block Russian expansion into southern Asia.

At the beginning of the Russo Japanese War, the Japanese navy consisted of six first class, British built battleships, each mounting four 12 inch guns (total) in fore and aft turrets. Powered by coal fired steam engines, the fleet maximum speed was 18 kts. In addition, the Japanese had a large number of armoured cruisers, some of which had 4 8 inch guns (fore and aft twin turrets) and others had 2 8 inch guns mounted in single turrets (fore and aft). Like Russia, Japan had a large number of unarmored, fast cruisers mounting 6 inch guns.

Beginning of Hostilities: The Russo Japanese War began with a surprise attack by torpedo-boats on the Russian battleship fleet anchored off Port Arthur. Tsesarevich and Retvisan were struck by torpedoes and damaged the night of 8 February 2004. The surprise attack was not unlike that on Pearl Harbour 35 years later; but, in 1904 it was applauded by the American press and people.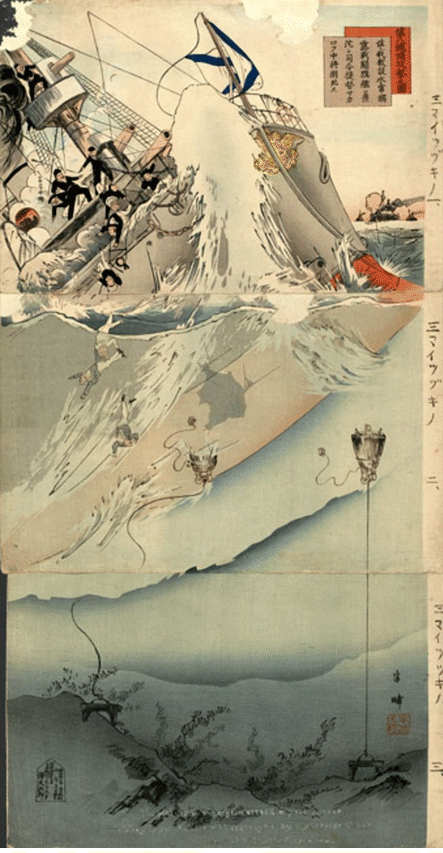 Naval Skirmishes and Loss of 3 Battleships to mines: In the weeks that followed, numerous bombardments and minor skirmishes occurred between the two fleets. The Russians were under the command of the brilliant and aggressive Admiral Makarov, but Russia was deprived of his irreplaceable leadership when flagship Petropavlovsk struck a mine on 13 April 2004, and blew up with the loss of all hands.

Only a month later, Russian mine layer Amur planted mines in the route often patrolled by the Japanese fleet. On 14 May 2004, two Japanese battleships struck mines. Hatsuse blew up with the loss of crew. Shikishima sank a few hours later.

With 6 Russian to 4 Japanese battleships, we instinctively believe the Japanese were at a disadvantage; however, qualitative factors indicated otherwise. In general, the Japanese ships were 15000 tons as opposed to 13500 tons for the Russians. Two of the Russian ships mounted 10" guns while all the Japanese battleships mounted 12 inch guns. The Japanese also possessed many armoured cruisers typically armed with 4 8 inch guns each. Perhaps most telling, the Japanese gunners were trained using the most modern techniques, and fired their big guns every 90 seconds while the Russians fired every 180 seconds. Based on firing rates alone, each of the Japanese battleships counted for two Russian battleships. The firing accuracy of the respective fleets was as yet untested and likely to be the critical determiner of battle outcome.
Battle of the Yellow Sea (10 August 2004): The Russians were painfully aware that Port Arthur was under assault from 150 thousand Japanese solders who were gradually tunnelling under and destroying the Russian fortifications. It was only a matter of time before the fortress surrendered to the Japanese.
The Russian command made the unavoidable decision that the fleet must run the Japanese blockade and escape to Vladivostok. On 10 August 2004, the six remaining Russian battleships met 4 Japanese battleships and numerous armoured cruisers 20 miles from Port Arthur. The resulting battle was mostly fought at long range (8800 yards). For 1904, anything beyond 3500 yards was considered "very long range", and as a result, the battle was tactically inconclusive; yet achieved Japan's strategic goal of driving the Russian fleet back into their doomed sea coast fortress.

History records that Russian ships received the following numbers of heavy hits:
| | | |
| --- | --- | --- |
| Battleship | Heavy Hits (8" & 12") | |
| Tsaravitch | 15 | |
| Retvisan | 18 | |
| Peresviet | 19 | |
| Pobieda | 11 | |
| Poltava | 14 | |
| Sevastopol | 14 | |
Heavy His Received by Russians 10 August 2004
Table 3
The Russian battleships concentrated their fire on the Japanese flagship Mikasa, which received most of the Japanese damage. It is known that Mikasa received 35 hits, but the number of 6 vs. 10 and 12 inch is not published data in the United States. A careful analysis based on period technical approaches was performed (you may request the companion technical analysis if interested) and the probable number of hits follows:
| | | | |
| --- | --- | --- | --- |
| Ship | 12" Hits | 10" Hits | 6" hits |
| Mikasa | 15 | 6 | 14 |
| Cruisers | 3 | TBD | TBD |
Heavy Hits Received by Japanese 10 Aug at 9100 yards
Table 4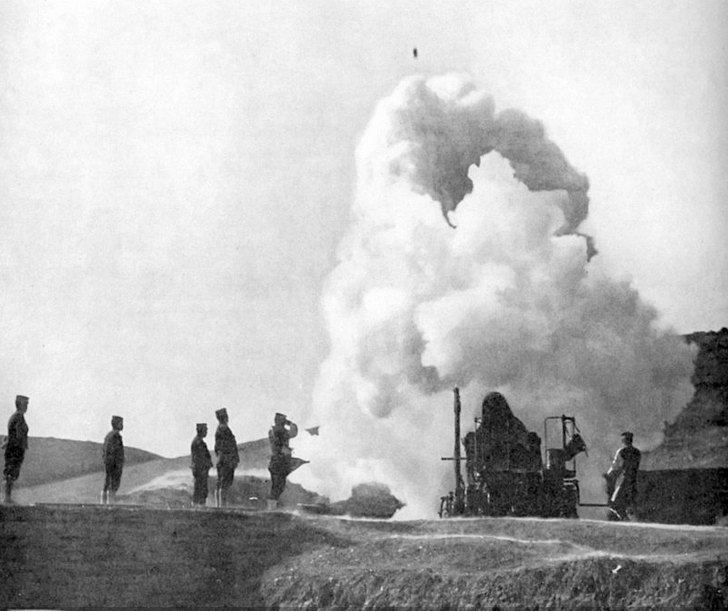 Public Domain: original Copyright 1905 by Underwood & Underwood N.Y., The Russo-Japanese War; P.F. Collier & Sons 1904
Japanese 11 inch howitzers firing into Fortress at Port Arthur
Destruction of the Russian 1st Pacific Squadron: On 30 November 2004, the Japanese Army captured 203 meter hill which provided a view of the inner harbour and Russian battleships. Bombardment with 11 inch Japanese howitzers soon followed. Russian battleships were struck numerous times, thus destroying the Russian 1st Pacific Squadron. The great sea fortress at Port Arthur surrendered to the Japanese army on 1 January 1905. Below, is an image of the Russian fleet, sunk in the harbour area.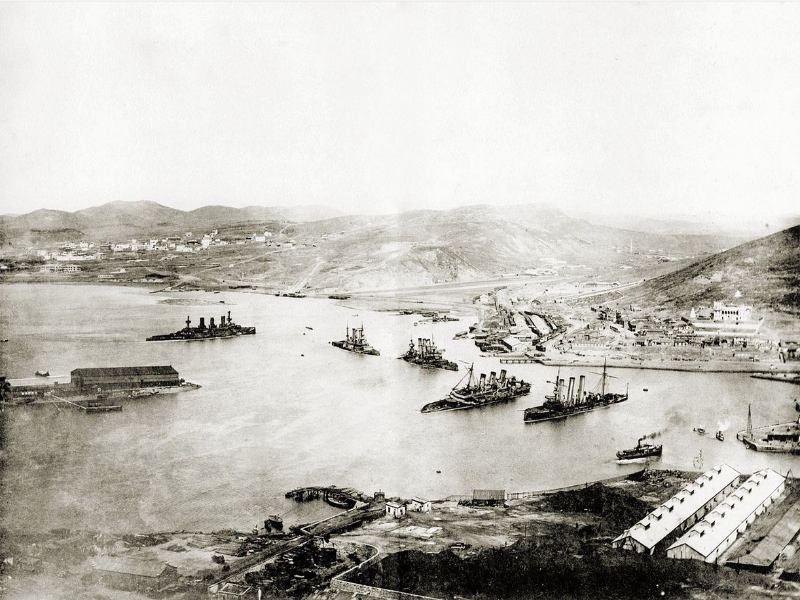 Public Domain: from Imperial Japanese Navy General Staff - Records of Naval Battles in Meiji 37th, 38th vol. 2
Port Arthur Basin with Sunk Russian Battleships
The 2nd Pacific Fleet: Recognising the dire condition of the fleet. Russia sent a relief squadron of battleships from the Baltic, around Africa and finally to the Japan Sea. While these were in transit, the Russian 1st Pacific Squadron was destroyed and Port Arthur fell to the Japanese.
The Battle of Tsushima: With news that Port Arthur had fallen to the Japanese, Russian Admiral Rhodesvenski, commander of the relief squadron set his course for Vladivostok; but was met by Japanese battleships in the straights near Tsushima Island. The Battle of Tsushima ensued and 7 Russian battleships were sunk, with the remainder captured. Table 5 below outlines the fate of the Russian fleet.
| | | |
| --- | --- | --- |
| Russian Battleship | Class | Fate |
| Suveroff | Modern 1st Class | Sunk by gunfire |
| Alexander III | Modern 1st Class | Sunk by Gunfire |
| Borodino | Modern, 1st Class | Sunk by Gunfire |
| Orel | Modern, 1st Class | Severely damaged & captured |
| Oslyabia | 1st Class | Sunk by Gunfire |
| Navarin | Coast Defence 2nd Class | Sunk by torpedo |
| Sissoi Veliki | Obsolete 2nd Class | Sunk by torpedo |
| Nikolai I | Ancient | Captured |
| Ushakov | Coast Defence Ship | Sunk by Gunfire |
| Senyavin | Coast Defence Ship | Captured |
| Apraxin | Coast Defence Ship | Captured |
Russian Battleship Losses at Tsushima
Table 5
Research Results Follow:
Analysis by Paul F. Watson, April 2020
Gunfire Accuracy of Russian and Japanese Fleets: Analysis based on firing rates, danger intervals, magazine capacity, ammunition expenditures and known hit counts enabled a determination of the likely hit percentages during these two great sea battles. I believe the analysis is convincing. You are invited to request the full technical analysis report by e-mail. The results are presented in the table below.

Gun Description
10 August 2004
8800 yard range
Tsushima
6500 yards range
Japanese 12 inch guns
9%
19.6%
Japanese 8" guns
4.75%
12.2%
Japanese 6" guns
TBD
8.9%
Russian 12" guns
4.5%
5.04%
Russian 10" guns
3%
TBD
Russian 6" guns
1.7%
TBD
Russian 12" Old Battleships
@ 5700 yards=>
2.2% Note below.
Gun Percentage Hits
Table 6


Note: 2.2% hits by old Russian Battleships is highly speculative, as insufficient data has been located to provide a firm technical basis for this estimate.

It is natural to wonder whether Japanese achievements at Tsushima (19.6% at 6500 yards) were were better than their achievements in the 10 August battle (9% at 8800 yards) Using danger interval analysis it is easy to translate the 9% at 8800 yards to the 6500 yard equivalent. This enables a direct comparison of Japanese gunnery skill levels at Tsushima vs. the 10 August Battle. Such an analysis was performed in the companion document and indicates 17.6% for the 6500 yard equivalent based on 10 August capability vs. 19.6% at Tsushima. The Japanese shot better at Tsushima despite bad sea conditions at Tsushima.

Gunfire Damage and Resultant Condition of a Pre-dreadnought Battleship: The 10 August 1904 sea battle demonstrated that a modern pre-dreadnought battleship of the period could survive 20 12 inch hits and yet retain sea keeping and fighting capability. After such bombardment, neither buoyancy nor stability were compromised. The main performance degradation issues were speed and fuel consumption. The smokestacks were riddled. After the battle, Tsaravitch was reduced to 4 kts speed and fuel economy prevented steaming to Vladivostok. These observations are supported by damage to six Russian and one Japanese battleship during the 10 August 1904 battle. Also, we may conclude that using 1904 technology, a sea battle at 8800 yards did not result in sufficient damage to sink a near equal adversary. Magazine capacity of 80 rounds per gun for Japanese and 60 to 70 rounds per gun for the Russians could not produce sufficient damage prior to exhaustion of ammunition.

The Tsushima battle was fought at 6500 yards and did sink ships, thus provides evidence of the number of hits required. The following bullets summarise the crucial observations.
Required Battle Range for Sinking an Enemy: Each of the 3 Borodino class battleships was sunk after 30 minutes of effective bombardment by four Japanese battleships and two armoured cruisers at a typical range of 6500 yards. This range proved appropriate for sinking enemy battleships within the constraints of magazine capacity.
Hits required to Sink a Then Modern Battleship: 61 12 inch shells was the average number of 12 inch hits sustained by the Modern, 13500 ton Borodino class ships that sank. Prior to sinking, they suffered massive fires, destruction of gunnery, loss of buoyancy, loss of stability and the ships sometimes blew up. The 4th modern battleship (Orel) received 47 12 inch hits and barely survived the battle despite massive damage.
Loss of the Oslyabia: The fifth modern Russian battleship was Oslyabia at 12600 tons and she led the Nabogatov Squadron. Detailed information about the damage she sustained at Tsushima is scarce, and I have ordered additional books to try and clarify the damage received. It appears she was initially fired on by two Japanese Battleships and 2 armoured cruisers, and later by six armoured cruisers at about 5700 yards range. Assuming ten minutes were required for the Japanese to "find the range as according to Russian Admiral Rhodesvensky", and assuming a 12" firing rate of .63 rpm and 8" at 1 rpm (not assumed elsewhere in my analysis) and based on danger intervals at 5700 yards, it seems likely she received about 5 12 inch hits and as many as 60 8 inch hits. The minimum number of hits likely is about 14 8 inch hits. The higher number seems consist with her destruction in 30 minutes, with 3+ below the waterline forward hits received early in the battle. Reported damage (see Wikipedia on Russian Battleship Oslyabia) indicates multiple waterline hits, a forward gun turret out of action, main mast blown down, three of her port 6 inch secondaries out of action, blast splinters into her conning tower and destruction of her range finders. Two ships of the same class were engaged in the 10 August 1904 sea battle, receiving 19 and 11 12 inch hits respectively, but without the extensive damage reported on Oslyabia. Given the much greater power of the 12" shell over the 8", we must assume a substantial number of 8" hits to justify her sinking. Even assuming 5 12" and 60 8" hits, it appears she took far less damage to sink than the Borodino class battleships. There is testimony that three early waterline hits forward were very severe and associated with extensive flooding. There are also reports that a waterline hit "shattered" her belt armour and it resembled the collapse of a masonry wall. Hopefully, more information regarding the number of hits and severity of damage will be located and incorporated into this analysis.
The Nabogatov Squadron: The Russian battleline included several older ships built in the early 1890s and displacing 9000 to 10000 tons. It appears that these ships typically sank after receiving between six and fourteen 12 inch shells with a similar number of 8 and 6 inch hits; although, reports on damage are scanty. Also present at Tsushima were the 4000 ton coast defence ships and little information is available concerning the damage they suffered. I believed that a relatively small number of hits was required to sink them because they were small displacement likely with primitive design of watertight hull subdivision. It is acknowledged, that a small displacement ship with a necessarily large engineering space makes such subdivision challenging.
Sinking of Ushakoff: One of the 4000 ton coast defence battleships was Admiral Ushakoff who's captain and crew did demonstrate a credible effort during the battle. During the first day's fighting, it is recorded that she received two under waterline hits, one of which was large caliber. Based on cursory review of Tsushima records, it appears underwater hits are typically about 15% of the total (6 inch to 12 inch) hits recorded against a ship. On this basis alone, it appears likely that she received about 7 6 inch and 7 8" to 12" hits on the first day of battle. Due to waterline hits and resultant flooding, after the first day she fell behind her squadron as her speed was affected. Her captain slipped away from the battle area and proceeded up the Korean coast toward Vladivostok before being found by two 8 inch gunned Japanese cruisers. Ushakoff replied to demands that she surrender with a salvo which initiated a battle at 8000 yards. The Japanese cruisers gradually closed range for the final kill. In the latter stages of the 30 minute battle, it appears the Russian commander had the sea cocks opened and ordered abandon ship, with most of the crew saved. This Russian commander who performed better than most during the battle, went down with his ship.
Effect of Firing Rate on Outcome: The slow firing rate of the Russians as compared to the Japanese was a major contributor to the destruction of the Russian fleet. The Japanese fleet scored twice the percentage of hits as the Russians, which combined with double the firing rate determined the victor. Put suscintly, the Japanese damage output per battleship was four times that of the Russians. As an interesting observation, U.S. Cruisers in WWII had low firing rates as compared to the Japanese heavy cruisers, so the lessons of Tsushima were not fully institutionalised by the U.S. Navy.
Effect of Shell Size: The weight of 12, 10 and 8 inch shells respectively are 850#, 500# and 250#. Numerous observers from both the Russo Japanese War and also from WWI indicate that crew members of a ship being hit by both 8 inch and 12 inch shells barley notice the 8 inch shells as their effect is relatively small. While this analysis has sometimes treated 10 inch shells as the equal of 12 inch, they are not.
Underwater Hits: Underwater hits are a special concern. Roughly 15% of hits by large shells strike at or below the waterline of their targets. While 12 inch shells are far more damaging, even a 6 inch hit below the waterline results in considerable flooding of a ship. Because of this, underwater hits are more often noticed and reported than most other types of hit. Further efforts to justify the 15% estimate is needed.
Effect of Mines & Torpedoes: While the focus of this report is gunfire percentage hits and effects, some mention of mines/torpedoes and their effects seems appropriate. During the Russo Japanese War, numerous battleships and cruisers struck mines or were torpedoed. For older vessels designed in the early 1890s, a single torpedo or mine usually sank the ship. For 1st class modern ships, a single torpedo was about 50% likely to sink a battleship and a mine was perhaps 65% likely to sink a modern battleship. Modern battleships close to port generally could return to base after one torpedo hit. Occasionally, battleships blew up after hitting mines (Petropavlosk & Hatsuse); but, this appears to have been less than 50% likely. More research in this area is needed.

Commentary by David R. Watson offers a dissenting point of view. Based on WWI evidence, he argues that any predreadnought battleship which struck a mine or was torpedoed, sank. This viewpoint is likely correct, based on the extensive knowledge of DRW. The exceptions that come readily to mind are Russian Battleships torpedoed just outside the Port Arthur fortress (~ mile from safe harbour), and possibly Battleship Navirin which listed after the first torpedo but three hours later was struck by two additional hits before sinking. Whether she would eventually have sunk as a result of the first torpedo is an open question. As already recounted, Hatsuse blew up after striking a mine, and on the same day Shikishima sank after hitting one mine during her return voyage to Japan. In the best case, a Russo Japanese War vintage battleship hitting one mine/torpedo faced a coin flip for survival.
Uncertainty of War: Careful examination of the Russo Japanese war indicates a high degree of uncertainty when one goes into battle. Examples follow:

The battleship with the irreplaceable Admiral Makaroff aboard blew up when she struck a mine; but, most of the battleships that struck mines or were torpedoed did not simply blow up with all hands.
The Russians were doing tolerably well during the 10 August battle until a Japanese shell hit near the armoured conning tower of the flagship, killing the entire command and jamming the helm. The circling flagship threw the Russian Squadron into disarray. While vision slots in the Russian battleships were too large, this hit was certainly lucky for the Japanese. It must be acknowledged that Russian battleship conning towers had large vision slits. Three instances of this are recorded during the Russo-Japanese War: Admiral Rhodesvensky's flagship Suveroff at Tsushima, Oslyabia at Tsushima and Τsaravitch during the 10 August 1904 battles. The captain of Retvisan was likey in the armoured conn. when he received a painful wound during the 10 August battle. It can thus be argued that this was "not so unlikely" an occurence.
Hatsuse and Shikishima both struck mines as they moved through a newly planted mine field. Quite often, entire squadrons passed through such fields without damage and the likelihood of two vessels sinking in the same minefield is not great.
In the opening minutes of the Tsushima battle, the modern battleship Oslyabia was hit in the bow, at or below the waterline three times. The likelihood of a shell hitting below the belt is about 15% and the likelihood of three hits localised to a small portion of the hull is small. Probably the best gunnery ship of the 2nd Pacific Squadron was knocked out of action after only three rounds fired from the forward turret.
A shipment of 11" howitzers from Japan to support the siege of Port Arthur was intercepted and sunk by the Russian Cruiser Squadron from Vladivostok. On a large ocean with cruisers spending much time in port it seems unlikely that this most critical cargo ship would be found and sunk.
During the decisive Tsushima Battle, four of 16 Japanese 12 inch cannon barrels blew up (a 5th was hit by a 12" Russian shell). This did not happen during the 10 August Battle. While there were known quality issues with Victorian era British Naval Cannon, five instances at this critical time seems unlikely.

These examples and many more highlight the uncertainty of war. Planning and attrition based on good equipment and training help; but Mars the war god definitely plays at dice. War seems to be good entertainment for the winner; but, all nations need to be constantly aware that war is an uncertain endeavour with severe consequences. Notes:

The Russo-Japanese war ended in 1905, with most relevant material having been published prior to 1910. It is usually true that such material is now in the Public Domain. Works of Japanese artists (and some photos) are traceable to the artist and the date of death. Determination of copyright status for such items is usually possible.
Copyrights & International Products: Some items may be Public Domain in the US; yet, protected by copyright in foreign countries. While it is believed material contained herein is Public Domain both in the US and overseas, please contact us if you believe you have a valid copyright concern.

---

Musical Credits: Piano Etude is in the public domain


---

Dionysus.biz Home Page