Homebuilding on the Oregon Coast
by Paul F. Watson


The Dream: Splendid vistas on the Oregon coast attract many, but the challenges and expense of turning vistas into a finished home are daunting. Below, is a photographic record of one such home.
Music 2: Piano Etude (see attributions)
The Reality: The technical challenges and financial demands of such a project are not for the faint of heart. Good engineering, good management and excellent subcontractors with knowledge of local conditions are essential. Start with the engineer. On the Oregon Coast, the weather is key to a successful schedule. As with my project, delays which force concrete work past mid-October make completion of the foundation problematic. So how much does the foundation coast? On a steep hillside, it will double the cost of building a house. Search carefully for a lot and consult local experts. (So Piano Etude music reflects the dream. Music 1 below, reflects the almost military determination and aggressivenss needed to complete the project.)
Music 1: The Desert (see attributions)
The Process: The process consists roughly of the following:
Obtain Engineering, Geology Reports & Building Approvals
Clear Land of trees in immediate building area
Contour Land to facilitate drilling piers & building foundation
Drill & Install Piers
Build Foundation Beams & Backfill. Complete Vertical Concrete as Required
Framing, windows, doors & decks
Electrical Wiring, Plumbing & Mechanical
Interior Work-insulation, sheet rock, kitchen & baths
Subcontracting Team: The project engaged several excellent subcontractors:
Murphy's Payroll & Book Keeping Service: Murphy Book Keeping Services, Portland area.
Structural Engineering: Stricker Engineering ,Tillamook County Oregon
All Terrain Excavation (Spider Hoe: Eric Mauck from Boring Oregon)
Boswell Excavation (Excavator: Rocky Boswell of Tillamook Oregon)
PLI systems (Speciality Micropile Drilling & Installation from Hillsboro Oregon)
Watson Coastal Enterprises (Foundation Construction with help of consultant James Gardner)
Oregon Truss: Provided well designed, documented, quality trusses on schedule.
Appliances included a retro style 'Brown Stove' from Appalachia, Bosh Dishwasher, Zepher Vent Fan & a Pellet Stove from the very helpful US Stove Company also in Appalachia.
Progress to Date:
Clearing the Land requires team work. An experienced lumber man with a chain saw fells selected trees in place. The steep slopes require a spider hoe to dig up stumps and pass the timber up the hill. Finally, an escalator at the top takes timber from the spider hoe and loads it into a truck for disposal. For safety, steep slopes require an experienced team.

We all love the trees; but, you need a deep drilled foundation designed by a registered Engineer. The trees and stumps must come out to make a foundation possible.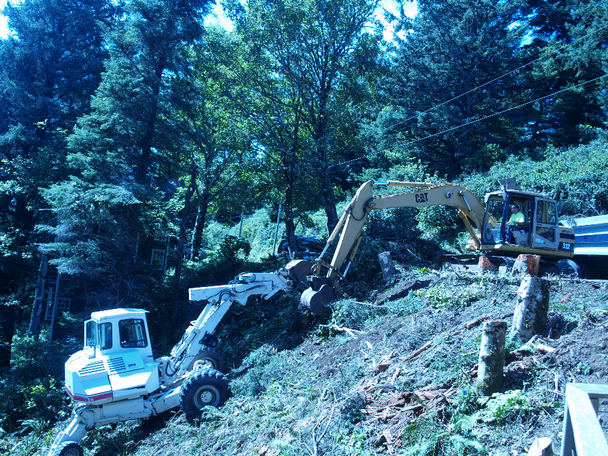 Teamwork Required for Safely Passing Logs from Spider Hoe Up the Hill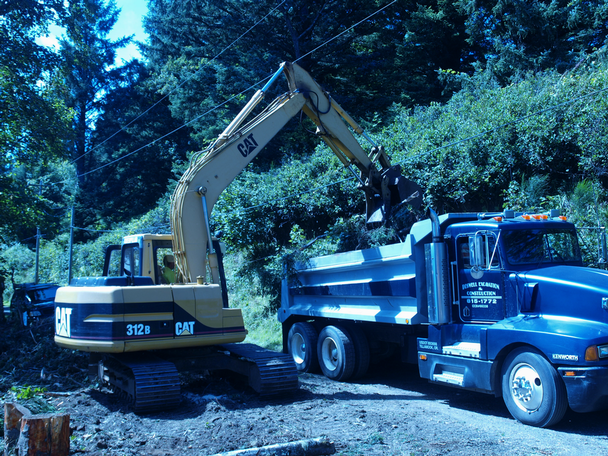 Rocky Boswell Loads Logs for Disposal


Contouring the Land relies on continued coordination of the Spider Hoe operator and the Excavator operator. This project utilised Eric Mauck and Rocky Boswell who have done many projects together. Smooth coordination in excavating and moving debris up the hill with few spoken words was a joy to watch.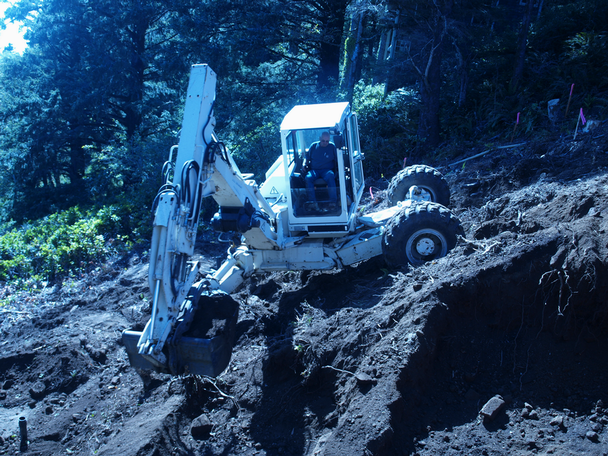 Eric on Spider Hoe Cuts Plateaus for Future Work



Rocky Moves Excavation Debris up the hill


Drilling & Installing Piers on a steep hillside requires a specialty contractor. This project utilized PLI Systems. This job proved to be a tough one, but PLI stubbornly fought down all obstacles & placed steel reinforced piers roughly 20 feet into the ground -- both vertical and horizontal shafts. Pull tests performed under the watchful eye of the geotechnical team proved the quality of their work.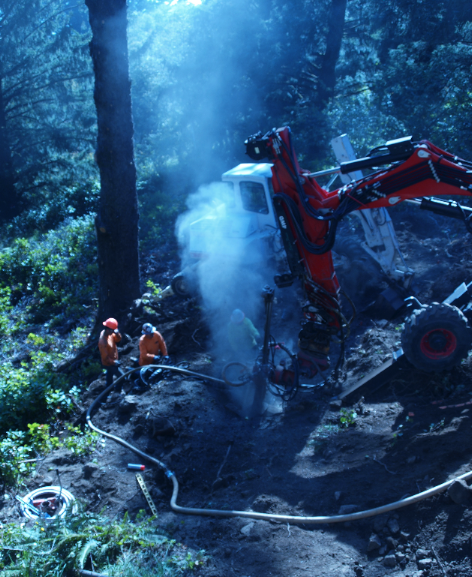 PLI Team Drills Piers into Mountain. Air Ejects Debris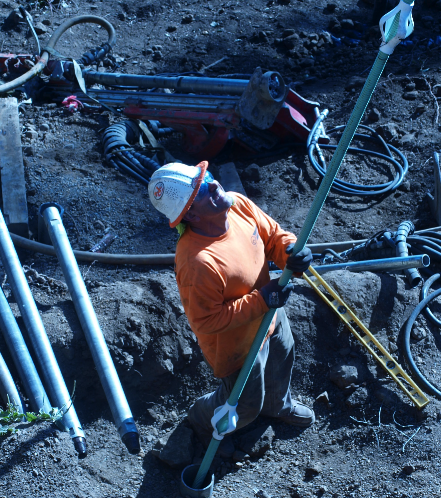 Jose Installs Steel Rods in Drilled Holes. Grout to follow.



Partially Completed Field of Drilled Piers 20 feet into mountain


Building the Foundation requires a grid of steel reinforced beams on top of the drilled piers because this is earthquake country. My "flat land" experience in Texas was helpful, but the knowledge and experience of consultant James Gardner made the job run smoothly. Good manpower is in short supply now, but with a small team we did the job!


Hillside Foundation Forms by Watson Coastal Enterprises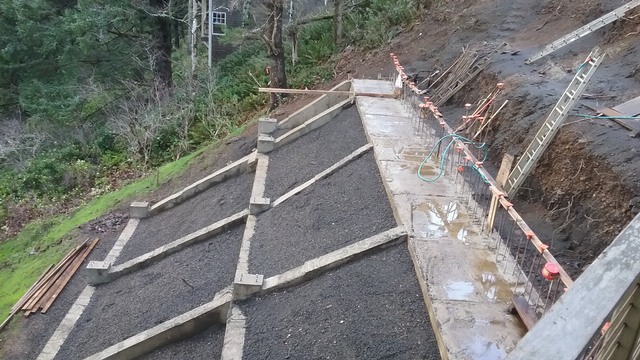 Finally, the Foundation is Complete & Backfilled with crushed rock


Auxiliary Concrete Structures: The design called for a one foot thick, 12 foot tall wall extending the length of uphill side to provide support, stiffness of the lower floor and a parking area above. The wall shown below was formed and poured by Brian Werner's wall building team. They were fast and efficient.


Vertical Wall by Brian Werner


12 Foot Tall Structural Concrete Wall. New Year's Eve Status


Parking Lot Structures: The parking lot provides space for three cars to park. It consists of left and right retaining walls, that are filled with compacted stone and finally paved. This area was prepared by Watson Coastal Enterprises and Foundation Consultant James Gardner.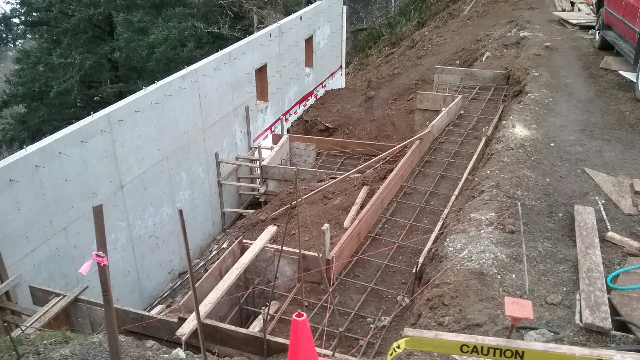 Sub-slabs under retaining walls



Right and left retaining walls
Weather Proofing of Underground Portions: The north wall of the building is partially underground (part of north wall on lower level abuts the parking lot). A waterproof membrane was installed by Watson Coastal Enterprises, followed by 5 inches of Styrofoam insulation to subdue moisture condensation on the inside wall of the building.


Waterproof Membrane & Insulation Partially Applied (to extend full height of wall)


Parking Lot filled with Compacted Gravel: The parking lot was next brought to grade (i.e. filled up) & a "safety fence" added to prevent unwary on-lookers from unsafe actions. The image below gives the first clear impression of the parking lot in relation to the future building. Visitors will walk into the upper floor directly from the parking area.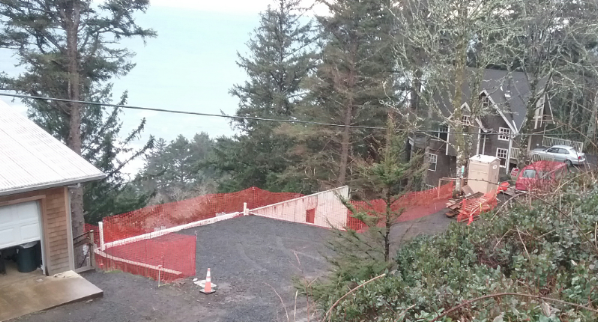 Site Plan with nearly complete parking lot & safety fences in place.


On the Back (Ocean) Side of the Wall, Columns are in Place: Watson Coastal Enterprises next installed steel columns to support the future building.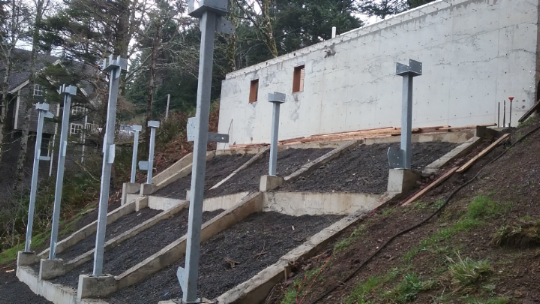 Steel Columns installed are to the ocean side of the site.



Lower Floor Support Beams: Watson Coastal Enterprises next installed large wooden beams per Engineering to support floor joists and walls of lower building floor.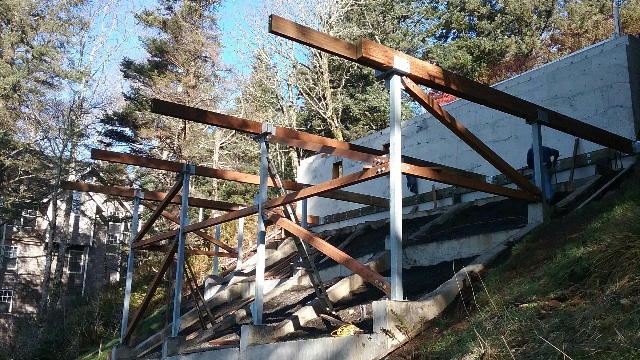 Large Beams Placed on Steel Columns.
Lower Subfloor Built on Large Wooden Beams: Watson Coastal Enterprises & consultant James Gardner installed joists and plywood sub floor for down stairs of building.


Lower Floor "Sub Floor" is Tong & Groove plywood.


April 2017: For months, building activities have been on a steep slope. With the subfloor nearing completion, the building process becomes the usual process of building on a flat surface. This subfloor is flat (as should be) and square (as should be). Months of foundation layout and preparation are now paying off.


---
Music Attributions:
The Desert from the Public Domain
Piano Etude from the Public Domain
May 2017: At this time, both lower walls and upper walls have been framed. Roof trusses are in place. Most of the plywood for the roof is installed.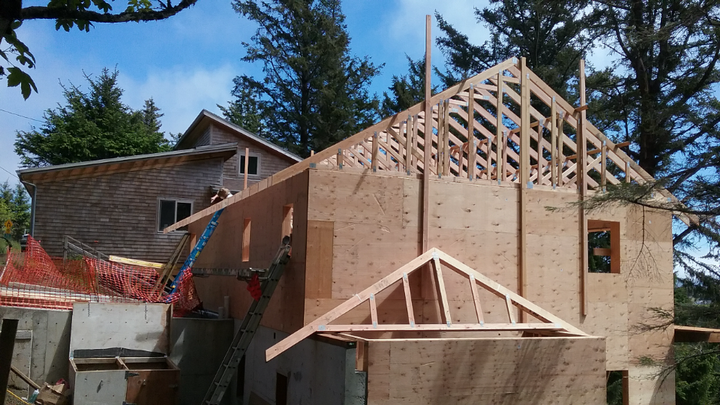 House structure is mostly complete. Soffits and deck in back needs work. Singles will go up in near future along with weather protection and siding. Stay Tuned!


June 2017: Roof Shingles are in place. Rough plumbing complete inside the building.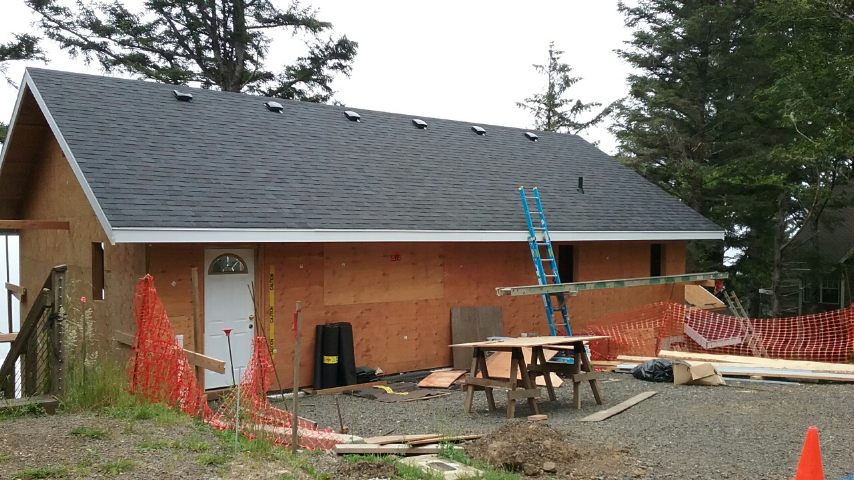 Windows are on order. Door order to be placed soon along with siding. Electrical work is being planned in detail.


SEPT 2017: Most of Siding Installed.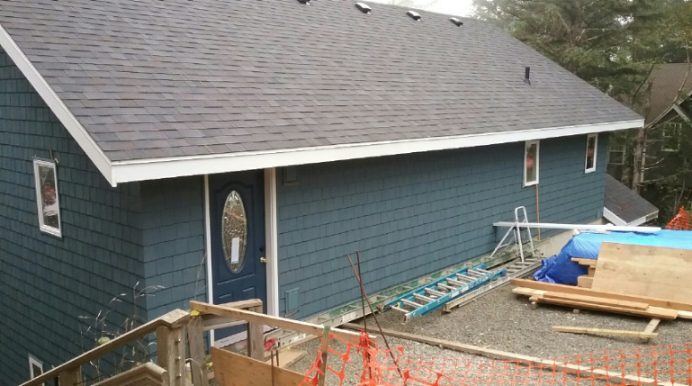 Steep W. Side shingles remain, along with installation of two windows on that side. Inside of house needs sheetrock, baths, showers, cabinets and all that. Winter is closing in and installation of electric with working heater is critical.


July 2019: Inside the Kitchen.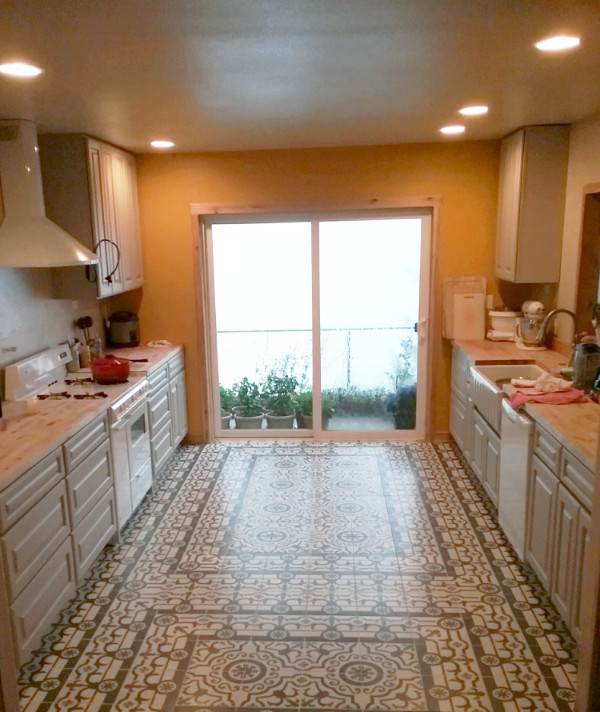 The kitchen features products from around the world -- Spanish tile, Italian farmhouse sink and American made cabinets. The kitchen is retro style with white appliances including an American made propane stove from Brown Stove Company in Tennessee.

A magnificent view of the Pacific Ocean may be seen from work stations; but is obscured on this rainy day.

November 2019: Upstairs Alcove with Pellet Stove.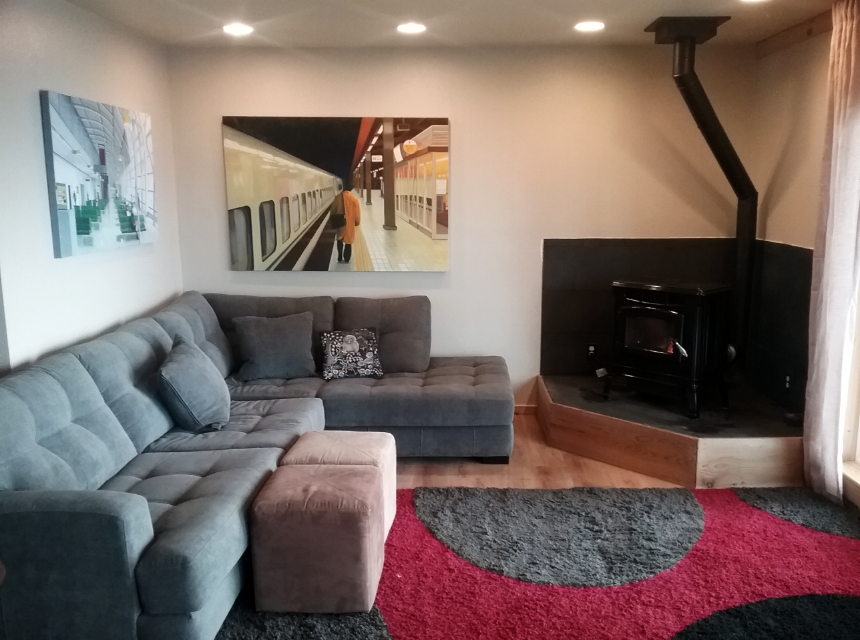 Most of the upstairs is a large living room with a small area to one side, heated by a pellet stove. This provides a semi-private cozy area with both fire & ocean view. Unlike so many, our pellet stove from US Stove Company gives a good view with nice flames & great heating.

November 2019: Deck - Outside the Kitchen.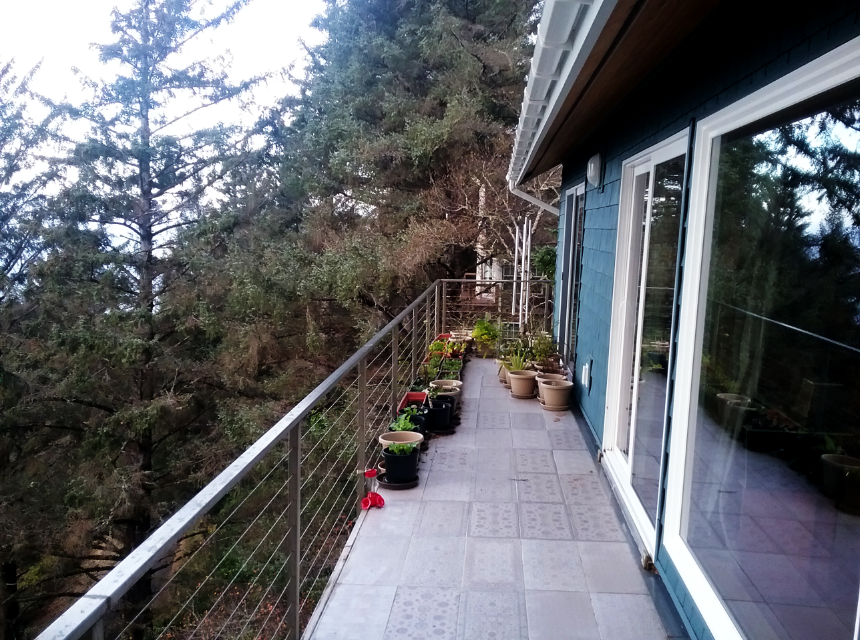 The upstairs deck is 5 feet wide with views of forest, village below & ocean. This photo emphasises the herb garden & beautiful trees.

A couple of years gone; but now we can watch the ocean from our house. A pleasing result and no-one hurt during a rough project!
---
Music Attributions:
The Desert from the Public Domain
Piano Etude from the Public Domain
---
Dionysus.biz Home Page