---

Quick Travel Gifts at Tokyo's Airport
by Paul Watson
Music (see Music Credits below)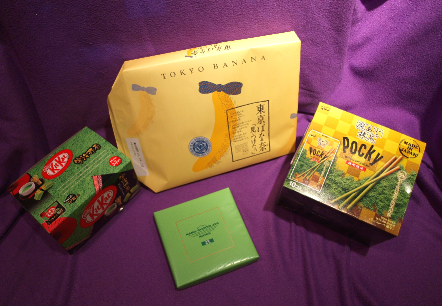 Travel Gifts: Most of my neighbours wouldn't know what to look for when passing through Tokyo's Narita airport. Japan is full of beautifully packaged and special delights. If you have a sweet tooth, green tea flavoured chocolate may be "just the ticket." The photo above features some of the choices that just arrived at my house!
Nama Chocolate, Royce (made in Japan)
Tokyo Banana - (cream filled cakes from Japan)
Green Tea flavoured Kit Kat (made in Japan)
Macha Choco & Green Tea Pocky sticks (an Asian favourite made in Japan)
Any Other Ideas? Yeah, lots of them! Japan has a rich tradition & there are many small items that make suitable gifts back home. But if you are not familiar with the culture, you might not know what to look for. Also, many interesting items are 'regional' and you are not likely to find them at the airport. Below, is a list of items & where you are likely to find them.
Wood Inlaid coin purses & accessories: Regional favourite from Omiyagi (gift) shops around Mt. Fuji.
Fish Shaped knives: Regional item in small shops in Kochi district of south Japan.
Small Towels: Japan has a tradition of small hand towels - often with local designs or sports themes.
Hand Printed Post Cards: Are available at small shops around Japan. These often feature local artists.
Paper Products: A 'paper store' doesn't sound exciting until you have visited one in Japan. Lots of neat stuff!
Wood Block Japanese Prints: readily available in Kyoto market are contemporary prints by living Japanese artists.
Wood Block Japanese Prints: Historical woodblock reprints of famous Japanese art. Try the art shop 2 blocks from Kamakura train station
Japanese Compass: For your 'explorer husband' a Japanese labeled compass (Japanese characters for North, South ...) is likely available at various shops -- if you can just fine the right shop!
Wood Carvings: Beautiful carved platters are available in Kamakura's tourist sector about 45 minutes south of Tokyo. You might also consider a carved "Oni" if you want a small travel object. Nice Buddhist temple bells with a really sweet tone are available in Kamakura near the 'big Buddha'.
Iron temple bells (small) make beautiful sounds and make indestructible travel gifts. You can find them many places, but try the shop by the big Buddha in Kamakura.

The list is endless; but, many of these things are regional and that is part of what makes travel in Japan fun. In Okinawa, it is printed fabric. At Mount Fuji, it is beautifully inlaid wood objects so thin they are flexible like paper! You can always ask a Japanese friend if there is a nearby O-mi-ya-gi shop (it will have the good local stuff). Enjoy!
---
Music Credits: Piano Etude is in the Public Domain
---
Dionysus.biz Home Page